Behind the scenes at Pupuseria Josefina
A Salvadorña marries busman7 and opens a Pupuseria at Rancho Las Brisas.
October 10th, 2014
Todos La ´Pupusa no es egual –
All Pupusas are not created equal
Tenemos Pupusas para todos, ya sea,
Vegano,
Vegeterian,
o te gusta la carne.
We have Pupusas for all, whether you are

Vegan,

Vegetarian,
or love your meat.
En su difente variedades –
They come in many different varieties
Pupusa de
Mora
- The berry of a local plant added for spice
Pupusa de
Chipilin
- A green similar to spinach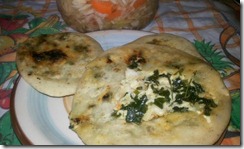 Pupusa de
Cochinito
- Another green similar to spinach
Pupusa de
Espinaca
- Spinach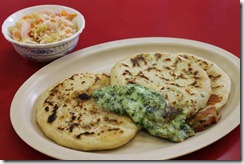 Pupusa de
Cinantro y queso
- Similar to parsley with cheese
Pupusa de
Ayote
- Central American pumpkin
Pupusa de
Loroco
- An aromatic flower
Pupusa de
Frijol y Queso
- Beans & Cheese
Pupusa de
Atún
- Tuna
Pupusa de
Pescado
- Fish of the day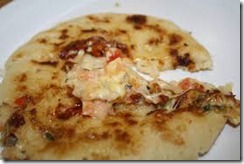 Pupusa de
Camarón
- Shrimp
Pupusa de
Pollo
- Chicken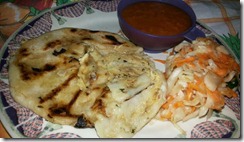 Pupusa de
Revueltas, Queso, Chicarron y Frijol
- Mixed spices, Cheese, Pork, Beans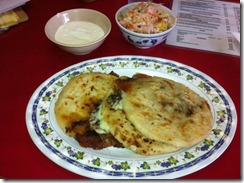 Pupusa Loca
- A bit of Everything
La famosa pupusas locas con todos los ingredientes
El queso pude ser avalido a todos y otra combinaciones a su gusto.
Cheese can be ordered with all and combinations to suit your taste.
Fabricada con masa preperada com maiz o masa de arroz.
Made with Corn or rice flour.
¡Todas muy deliciosas loso lo disfrutas en el salvador!
All are very delicious, enjoy your time in El Salvador!